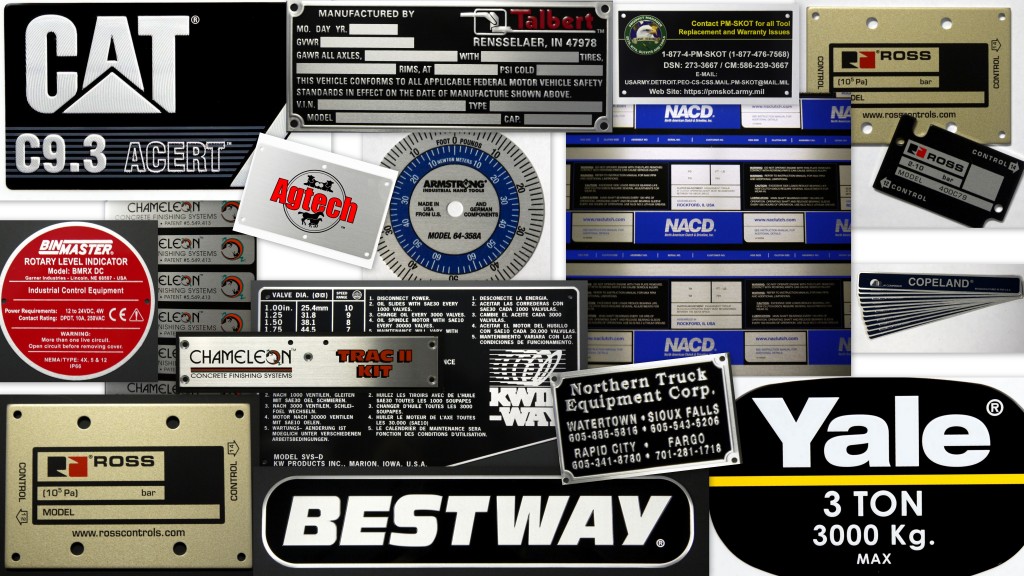 Custom metal nameplates are critical for providing data and ensuring safety in the workplace. At U.S. Nameplate Co., we supply durable and long-lasting nameplates and tags to more than 3,000 Original Equipment Manufacturers (OEM's) in a variety of industries, including mining, the military, medical, and transportation.
Since 1946, we've created high-quality nameplates at affordable prices. At U.S. Nameplate Co., you needn't spend a fortune to receive a well-designed product. We work with many customers who are on a budget and we provide economical and custom solutions for all our clients.
Call one of our friendly and professional representatives to discuss your next project. And keep in mind, there are several ways we can save you even more money.
• Size does matter. In fact, the smaller your nameplate or tag, the greater your savings. Sometimes a large nameplate is necessary in your industry. However, in other situations, you can easily adjust the size of your nameplate. Ask yourself: Do I really need a thick nameplate when a thinner one will do? Because we design and manufacture all our products under one roof, finding just the right shape and size is a breeze. You may also consider incorporating other tags onto one template to save time and money.
• Talk with us about materials and processes. In order to lower your cost, we can make many modifications. For example, we can use a less expensive metal, vary the thickness of the nameplate, use a different printing process, and find the most affordable type of finish. We'll ensure the nameplate is suitable for your use and your work environment. The resulting nameplate will be extremely durable at a competitive price.
• Think about your needs now and into the future. Planning ahead could save you quite a bit of money. Rather than phoning us each time you're running low on a metal nameplate or tag, consider placing a large order upfront. It's much easier and more affordable for us to schedule a large production run than to do several small runs. We pass these savings on to you, our loyal customer. You'll also have peace of mind knowing you won't run low on stock or have to make a mad — and expensive — scramble trying to place a new order.
At U.S. Nameplate Co., we ensure you have high-quality products on time, in place, and at competitive prices. Our experienced representatives will work with you to provide the best cost available. We're happy to answer all your questions and look forward to working with you. Contact us today!