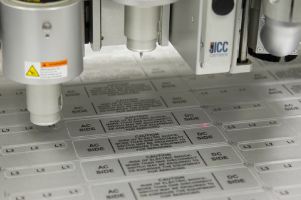 Durable. Impenetrable. Rugged. Indestructible.
At U.S. Nameplate Company, we design and manufacture all of our products to withstand the harshest conditions imaginable. The industries we serve—from aerospace to the military to mining—count on us to create permanent identification through our custom metal nameplates.
We manufacture photosensitive, anodized aluminum nameplates—called Metalphoto®—that have been specified by governmental, military, and industrial Original Equipment Manufacturers (OEM's) for more than 65 years. We're proud of this long and stellar reputation.
Using Metalphoto, we can produce a wide variety of custom long-lasting labels, nameplates, signs, and control panels. We strongly recommend Metalphoto nameplates for the following four reasons:
Built to Last
Freezing weather, moisture, chemical and fungal exposure, high altitudes, scorching temperatures . . . name a damaging condition and our custom Metalphoto nameplates have and will outlast them all. How? Unsealed aluminum is quite porous. We create a sub-surface image—much like a black and white photograph—that is then sealed inside the anodized aluminum plate. This anodic layer seals out even the harshest environmental conditions, making it an ideal identification plate for the military and government.
Custom Designed for You
You're in charge of your design and you're spoiled for choice. At U.S. Nameplate Co., we're a one-stop shop. We design and manufacture all of your identification products under one roof. Our Metalphoto process can be used for your panels, asset tags, data-rating plates, labels, signs, nameplates, serial plates, and other needs. We offer varying metal thicknesses and handle jobs of nearly any size. And the Metalphoto process supports a wide variety of images and data, including barcodes, symbology, and brands. Clear and easy-to-read information reduces errors and accidents and saves time.
Attention to Detail
So precise are the markings of our Metalphoto process, that we can photo-image even the smallest of surfaces in minute detail. The resulting high resolution image is easy to read and scan. With Metalphoto, we can also offer you security printing, including micro text and watermarks. It's another reason Metalphoto nameplates are the perfect solution for industries like the military that rely on strict standards and specifications.
Tested and True
Boeing, NASA, U.S. Army, Lockheed Martin, and Honeywell are just a few of the OEM's who specify Metalphoto products for their industries. Why? Since 1950, they have trusted the unique features, durability, and proven performance of Metalphoto. At U.S. Nameplate Co., we're honored to manufacture rugged products and to partner with these industries.
Since 1946, we've been the supplier of choice to more than 3,000 OEM's. At U.S. Nameplate Company, quality matters. In all we do, we're customer driven. We're proud to be an ISO certified facility and UL approved label supplier.
Contact us today to see how we can provide custom Metalphoto solutions for your business.