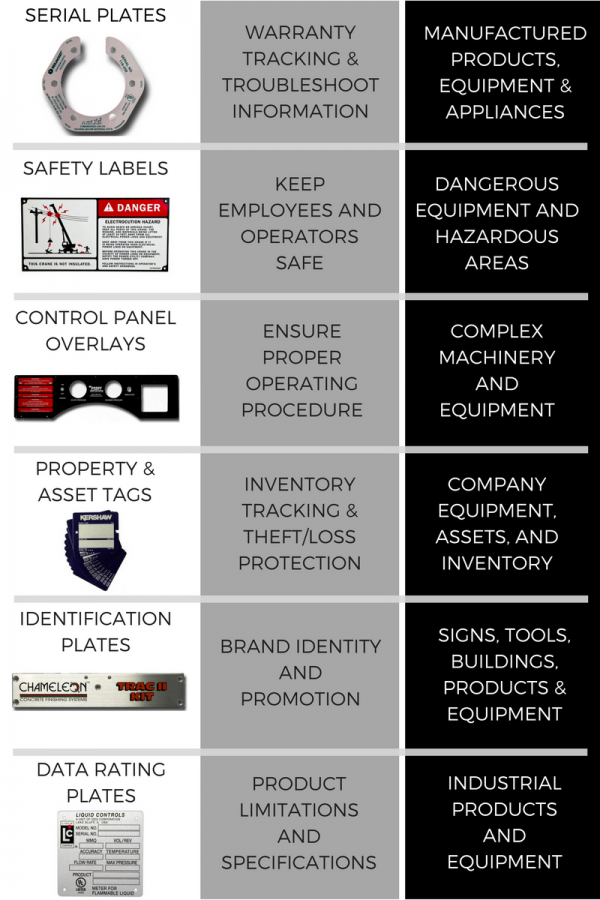 Running a successful business involves a lot of details, and some important ones often get overlooked. If you're in charge of operations, promotion, or manufacturing, you probably have a lot of decisions to make and too many options to count. Nameplates/Labels may not be high on your list of priorities, but they should be.
If your business involves any type of manufactured goods, machinery, electronics, or industrial equipment, find out how U.S. Nameplate Company can help your business. From inventory management to safety and efficiency, we'll explain why these are the six nameplates/labels your business needs.
Serial Plates
Serial plates contain valuable information about your manufactured products including your company name, the model number and serial number, the date the product was made, and information regarding the batch the product was made with.  Serial plates are attached to the products and the information is recorded before products are shipped off to be sold. This helps your company, your retailers, and your consumers easily communicate and track important information about each product.
Many companies manufacture similar products with just slight differences. If there are any issues with a product, consumers are expected to call the hotline number printed on serial plates. Having this information on serial plates helps consumers identify the specific model number and serial number for the particular product so that your representatives in customer service can quickly locate and provide troubleshooting information to the consumer.
Serial plates also help identify a product's warranty information. From the terms to the lifespan and status of the warranty, serial numbers and model numbers on serial plates are able to easily provide warranty specifics when a consumer calls in for replacement, repair, or return.
At the end of the day, everything comes down to the bottom line – sales.  With serial plates, you are able to track how many products were sold, at which dealers/locations/divisions they were sold, and which products had the highest number of sales.
Safety Labels / Warning Labels
To keep things running smoothly, it is important to keep both equipment and employees safe in what can be a dangerous environment. With the help of safety labels, companies are able to warn and inform employees about possible workplace dangers, including exposures to chemicals, loud noises, flying debris, and many other environmental dangers.
Warning labels are also necessary for dangerous equipment that can pose an injury to the operators, such as heavy equipment, electronics and machinery with high voltage. With the help of safety and warning labels, companies are able to lower the risk of injury and increase efficiency and production.
Control Panels and Graphic Overlays
Your equipment, machinery, or electronic devices have switches, buttons, or other means of controlling the system. Control panels and graphic overlays help ensure proper operating procedure by clearly labeling controls on complex machinery and equipment.
Control panels, graphic overlays, and deadfront graphics are just some of the different types of protective coverings you may need, depending on the physical needs of the specific device or equipment. Each of these are specially designed to correlate with the look, feel, and function of the specific application.
Control panels and graphic overlays can be placed on a variety of equipment, including industrial machinery, vending machines, sound systems, medical equipment, appliances, telecommunication devices, and many more. Any equipment with keypads, switches, or any other controllers need to have identification to keep the operator safe and the equipment from malfunctioning.
Property and Asset Tags
Whatever your industry, your business likely has physical assets that are important to keep track of for your own inventory and accounting purposes. Property and asset tags are used to more easily track and monitor those assets.
For moveable assets, tags help to keep track of where equipment is in each step of its transportation. This can also help with theft prevention since these products can change hands often and are at a greater risk of being stolen or misplaced. The asset tag contains your company identification and specific tracking information, so it is much easier to get products returned to the proper place.
Though fixed assets don't typically change locations, it is still important to keep track of these for inventory audits. Property tags help you with inventory control and give you the ability to easily calculate the value of each asset over its life cycle.
Furthermore, asset tags with sequential numbering or barcodes can help track maintenance and repairs. Scanning a tag can quickly direct a user to a database of repair instructions or maintenance schedules.
Company Identification Plates
Branding is an important part of any business, in order to keep your company top of mind for consumers. Identification plates and products can contain your company name, logo, address and any other important information about your company.
Whether it is through the use of a building sign, industrial decal, or product label, identification products are long-lasting branding materials to promote your company and your products.
Data Rating Plates / Specification Plates
Data rating and specification plates document the different limitations of industrial equipment for several industries, such as construction, mining, and manufacturing. Common applications for data rating and specification plates are motors, pumps, fans, heating equipment, and lighting fixtures.
These plates help operators understand a product's performance specifications to help ensure proper use and safety for both the operator and the equipment. Specification plates can display information about weight limits, temperature ranges, lifting capacities, electrical hookup information, and more.
How U.S. Nameplate Co. Can Help
With 70 years of experience in the industry, U.S. Nameplate Company has become the supplier of choice for over 3000 Original Equipment Manufacturers. We've manufactured identification products across multiple industries, including construction, mining, farming, transportation, medical, utilities and military.
We are also an ISO certified facility and a UL approved label supplier, so you can be sure your nameplates will meet industry standards.  Our knowledgeable and experienced staff is happy to help provide solutions to meet any need specific to your industry.
Everything that we do is custom designed and we offer a variety of options for materials, thickness, finishes, attachment methods, and fabrication to meet your exact specifications. All of our products are built to withstand harsh environments and last for years so that your company's brand and products are represented with professional, high quality nameplates.
Trust the staff at U.S. Nameplate Company for all of your industrial identification needs. Request a free quote or contact us today for more information.