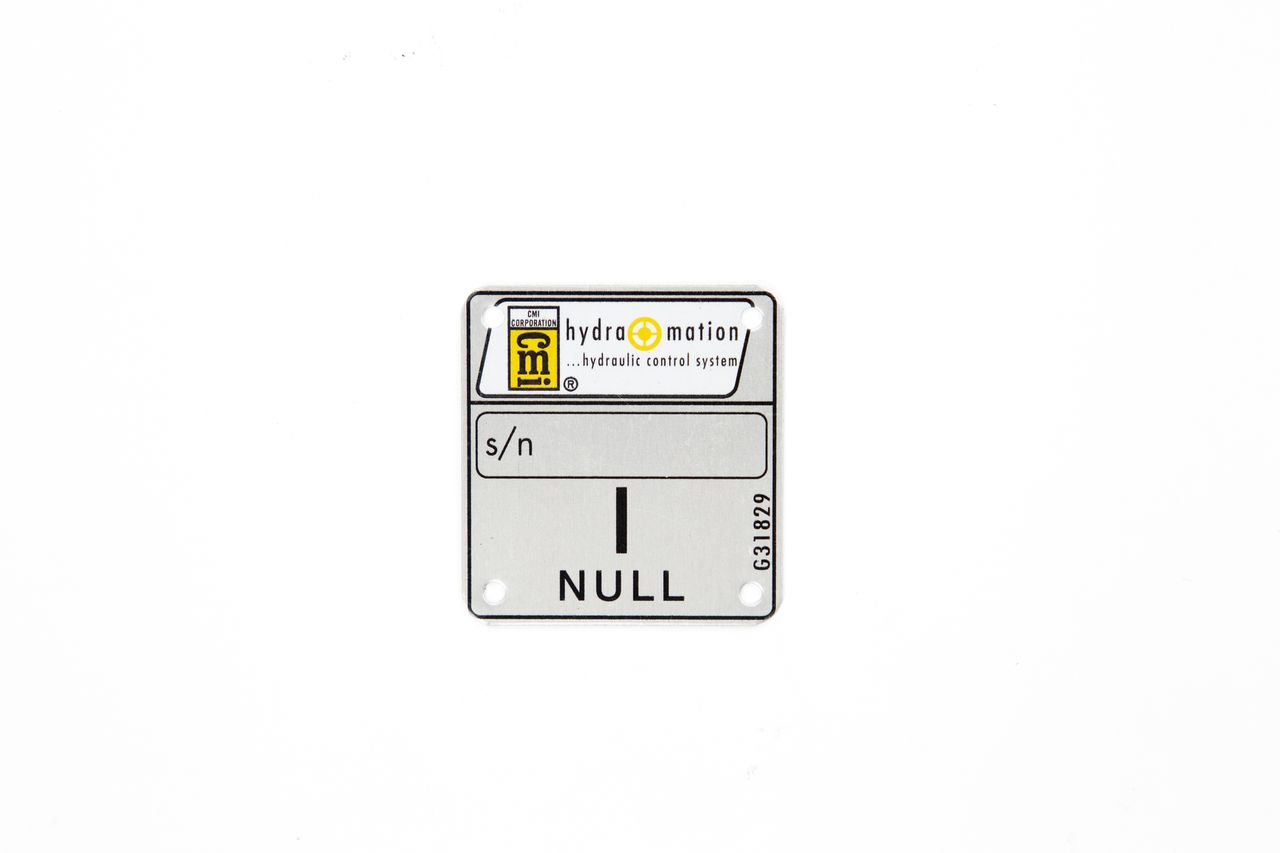 U.S. Nameplate Company has produced professional, long-lasting metal nameplates and metal serial tags for more than 70 years for many different industries. Customized metal serial tags track and label valuable products, manufactured machines, and large pieces of equipment. U.S. Nameplate produces these custom, durable metal serial tags for companies across the nation, ensuring great service and a quality product!
Track Assets
Maintaining an inventory of valuable equipment and machines is important to farmers, construction companies, and miners alike. In all of these industries, it's important to take a careful assessment of all assets by recording serial numbers. Metal serial tags from U.S. Nameplate allows a company in these industries, and others, to produce well-labeled traceable equipment and machines.
Theft Protection
Metal serial tags on large equipment and products hinders the resale of stolen products. If equipment or products are stolen, the serial number is an important tool to ensure it is returned to the rightful owner. Metal serial tags also provides proof of ownership. Keeping a record of all serial numbers in the event of theft, allows the consumer to provide considerable proof.
Insurance Claims
In the event of theft or damage to expensive machinery and equipment, serial numbers aid the process of filing an insurance report.
Manufacturing
Serial numbers are crucial in large-scale manufacturing to help with quality control and service management of mass-produced products. Metal serial tags placed on products and equipment help consumers track warranties and product recalls. By allowing consumers the ability to track this information with a metal serial tag, businesses can avoid mass recalls or issues with warranties.
Determine Value of Equipment and Machinery
A metal serial tag helps determine the value of old or antique equipment. Metal serial tags that list manufacture dates, serial numbers, and other information help owners determine specific information about the machine or equipment.
Specific, Customized Information
U.S. Nameplate assists with the creation of unique, customized metal serial tags. Although sequential numbering is common information on a metal serial tag, other information can be added to create a unique tag. Information including manufacture date, model, and year of the product helps consumers better track their machinery or equipment. Additionally, other information specific to individual products can be added to the metal serial tag to help in the instance of inventory inspections or audits.
Custom Design and Durability
Metal serial tags from U.S. Nameplate are custom-made to fit an industry's specific needs. From shape and size to color and thickness, metal serial tags are custom designs for different products and pieces of equipment. Additionally, metal serial tags from U.S. Nameplate are printed using etching, stamping or embossing on a variety of materials including aluminum, anodized aluminum, Metalphoto ®, brass, and stainless steel.
A variety of adhesive and hole cuts/machining options are available to best fit the need of the customer. Most importantly, U.S. Nameplate understands the need for products that outlast harsh elements. Metal serial tags are made to last up to 25 years of outdoor exposure. The unique etching processes used to secure the text as part of the metal serial tag allows the tag to last as long as the machine it's placed on.
For questions or to request a quote, contact U.S. Nameplate Company today at 1-800-553-8871.