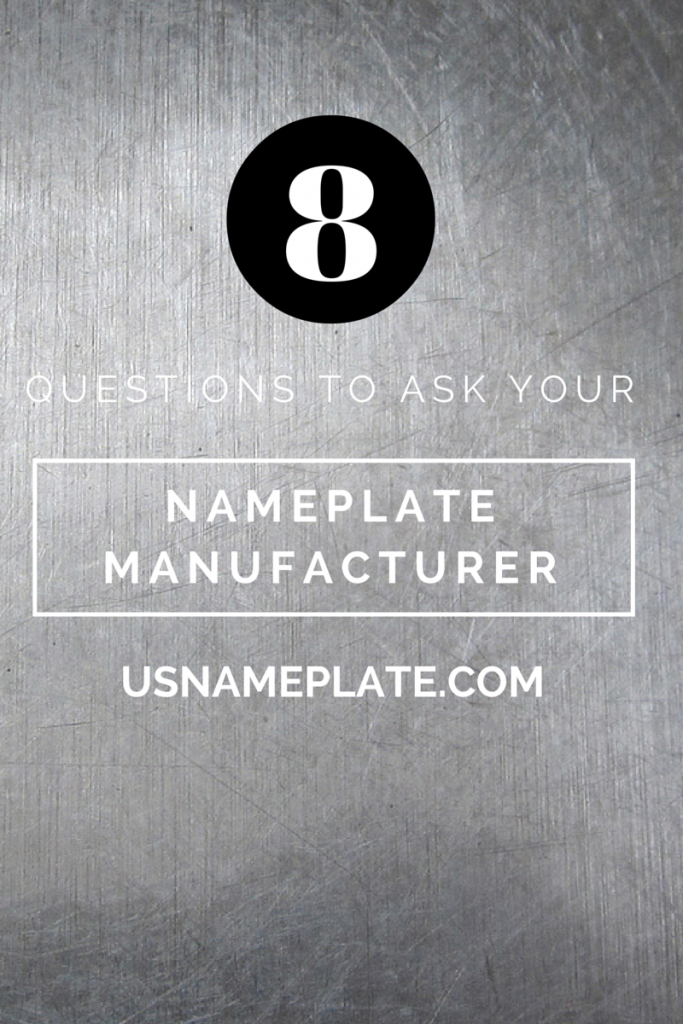 Questions to Ask Your Nameplate Manufacturer Before You Buy
We've built our reputation on solid work principles: reliability, professionalism, quality, and hard work.
For more than 70 years, U.S. Nameplate has been the supplier of choice to more than 3,000 Original Equipment Manufacturers across the globe. We're proud that so many people put their trust in us.
We realize many companies are still seeking reliable industry partners. If you're in the market for a nameplate manufacturer you can trust, make sure you do your research. You need to be sure you have an excellent partner that manufactures high-quality products based on your specifications and timeline.
Anyone can search online for businesses, but making sure you find the perfect company is no small feat. We recommend taking enough time to find the ideal partner. Sometimes you can find information on a website's FAQ page. Other times, you need to talk to the company directly. Your diligence now will save you money and bring you peace of mind in the future. Following are eight suggested questions to consider and/or to ask:
What types of metals and plate thicknesses do you offer? Verify that the companies you interview have products that fit your industry. U.S. Nameplate uses aluminum, anodized aluminum, Metalphoto®, brass and stainless steel in thicknesses ranging from .005-.125.
What kind of design customization requests can you meet? Just as no two people are alike, no two company's needs are the same. You have unique specifications and you need to make sure your OEM is up to the challenge. Our experienced art department will take your blueprint or artwork and transform it into a press-ready proof.
What are the sizes of your production runs? Some companies are better equipped to handle small orders; some prefer large print runs. Depending on your needs, you should know a company's capabilities. At U.S. Nameplate, we produce orders of any size. We can meet all your production needs.
What are your hours of operation? If you have an order or a question, you want to be sure you can reach someone immediately. We pride ourselves on our availability. Our Customer Service Representatives are available 8:00 AM – 4:30 PM CST, Monday – Thursday, and 7:00 AM – 3:30 PM CST, Friday. You will always reach someone in person. Isn't that better than talking to an automated machine?
Who will be handling my order? Many companies outsource. At U.S. Nameplate, we're a one-stop shop, ready and able to manufacture all of your identification products requirements. We will handle every aspect of your order in our modern 55-thousand square foot climate-controlled facility.
How long do your nameplates last? Avoid the problem of having to re-order poorly made products. Our metal nameplates are guaranteed to last up to 25 years even in the most rugged of outdoor conditions. This long-lasting quality saves you time and money.
What is your delivery turn-around time? If you need an item, you probably need it immediately. We can store your nameplates in inventory for just-in-time delivery. That means you can order ahead and U.S. Nameplate Co. will hold the parts until you need them. We'll bill you when we deliver, not when you place your order.
What associations do you belong to and what affiliations do you have? Industry-specific trade associations and memberships in other organizations — like the Chamber of Commerce and the Better Business Bureau — show that the company is interested in its reputation. U.S. Nameplate is a proud member of Farm Equipment Manufacturer's Association, Association of Equipment Managers, Association for the Work Truck Industry, and Specialty Graphic Imaging Association.
We hope these questions help guide your discussions. Sometimes a simple phone call can tell you volumes about a company's culture. At U.S. Nameplate, we are friendly and professional in all we do. We welcome the chance to be your supplier of choice. Contact us today!