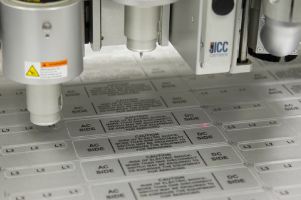 Figuring out how and where to attach your industrial metal nameplates may seem like a simple task, but it can also be a headache. Some methods of attachment might be easy to attach, but won't be durable enough for the industry you work in. Ensure you're attaching your nameplates the best way possible. Below are four different ways you can attach your metal nameplates depending on your needs.
Mechanical 
Using screws, rivets, or fasteners is a common method of attaching metal nameplates. This method is generally very durable and allows you to align the nameplates exactly where you want them. Using mechanical attachment is also very cost effective. Many industries will find that this is the best method to keep their nameplates looking and functioning great for the long haul.
Adhesive
Using a high quality adhesive is the quickest method of attachment. If applied correctly, your industrial nameplates should be very durable and long lasting. If applied incorrectly, it is very difficult to reapply without using some form of mechanical attachment. You also need to make sure the adhesive you're using will work on the surface you're adhering to.
Welding
Having your industrial metal nameplates welded to a surface is a permanent attachment method. Welding takes longer to attach and requires the metal nameplate to be a certain thickness. This is a great method if you're positive you want to keep your nameplates in one spot for an extended amount of time.
Hanging
Hanging your metal nameplates is the most inexpensive and quick method of attachment. This attachment method allows you to move the nameplates easily and rearrange them quickly.
For the longest lasting industrial metal nameplates, contact U.S. Nameplate. We have been providing high-quality nameplates at affordable prices since 1946. Our nameplates can withstand up to 25 years of outdoor exposure while also having hole patterns machined to the strictest tolerance.
Whatever your metal nameplate needs, U.S. Nameplate can custom design the perfect solution. We offer a special metal etching process that can withstand the outdoor elements. We also offer stamping, embossing, screen printing, and digital printing. Call us toll free today at (800) 553-8871 or request a quote online!