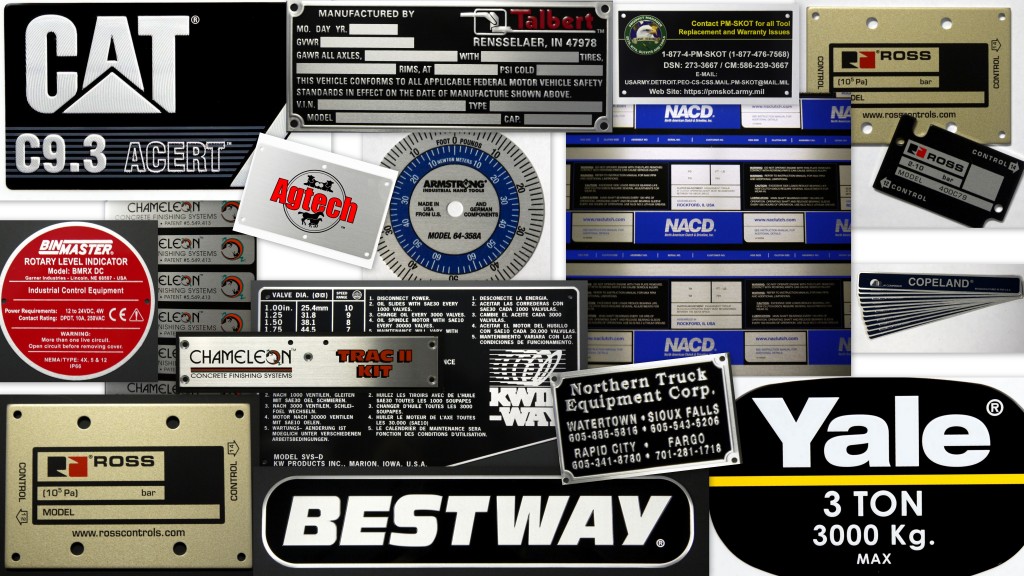 U.S. Nameplate Co. has a staff of technical professionals, engineers, and graphic artists with a wealth of experience; capable and willing to assist companies of all industries in the design, specification, and ordering of customized metal nameplates. Below, four steps describe the process of creating and designing a metal nameplate that best suits your needs.
Determine Need for Metal Nameplate
Shape and Size
What are the dimensions of your product? Where will the metal nameplate be located/mounted? From what distance would you like it to be seen? These three questions will help you determine the size of metal nameplate needed. Size and shape can also depend on logos or artwork, amount of text, or industry standards. U.S. Nameplate Co. has a number of different dies required to produce special shapes. If our dies do not fit specific needs, custom dies can be created. U.S. Nameplate Co. can die cut, digitally cut, laminate and/or machine a variety of metals in different shapes and sizes.
Materials and Finishes
Because U.S. Nameplate Co.'s customized metal nameplates are used in industries such as construction, mining, and military, a product that is built to last is extremely important. Additional materials available to create customized metal nameplates includes aluminum, anodized aluminum, Metalphoto®, brass, and stainless steel. Each type of metal varies in thickness, color, and finish options.
Color and Finish
Depending on the material used to create the metal nameplate, there are a few different colors available. Anodized aluminum is available in black, clear, red and gold. Most any metal product stocked can be screen printed and/or flooded to produce colors specified/needed. U.S. Nameplate Company also has the capability of digitally printing metals to produce photographic quality images. Metal finishes vary between materials but may include matte, brushed, mill, or satin.
Attachment and Holes
How or where will the metal nameplate attach to your product? U.S. Nameplate Co. can place holes in the metal nameplate in most any location in a variety of sizes. If you are unsure of the best way to adhere the metal nameplate to your product, U.S. Nameplate Co. engineers can recommend the best adhesion method depending on materials, surface and production process.
Request a Quote
Once need is determined regarding customized metal nameplates, continue the process by requesting a quote from U.S. Nameplate Co. When a quote is requested we ask for general company contact information, product need & usage, and a basic blueprint/drawing of the product. It's our job to help you customize a nameplate best suited to your needs.
Request a quote online at www.usnameplate.com.
Fabrication Processes
Embossing
Embossing adds three dimensions to printing for unique identification. The information on an embossed nameplate will remain legible many years after harsh environments wear off any printed image.
Machining
Machining is any one of various processes in which a piece of raw material is cut into a desired final shape and size by a controlled material-removal process. Traditional machining processes, are turning, boring, drilling, milling, broaching, sawing, shaping, planing, reaming, and tapping. Machine tools, such as lathes, milling machines, drill presses, turret punch presses or others, are used with sharp cutting tools to remove material to achieve a desired geometry.
Metal Etching
Metal Etching is a special process used by U.S. Nameplate Co. for products used outdoors. The metal etching process is the most durable process available. This method is recommended for products or machines placed in tough environments and harsh outdoor elements.
Shipping and Application
Total Time Required
At U.S. Nameplate Co., we strive to finish jobs seven to ten days after the proof is approved. In emergency rush situations, U.S. Nameplate Co. is capable of producing *Expedited orders in 3-5 business days *for a premium fee.
Shipping Methods
We ship our products within a 10% over/under quality standard. If an order requires unusual or specific packing, handling or shipping instruction, U.S. Nameplate Co. will accommodate those needs if notified prior to production.
Application
There are many different adhesive options available to adhere metal nameplates to your product. It is important to consider the texture, surface, and material of the product you will adhere the metal nameplate to. Additionally, the type of adhesive used depends on outdoor exposure, temperature variations and conditions. U.S. Nameplate Co. can help suggest the best type of adhesive for your specific needs.
For more information about designing customized metal nameplates with U.S. Nameplate, view our decal and nameplate design guide or contact us at (319) 895-8804.
Tags:
Decals
,
Metal Nameplates