In an increasingly litigious society, companies know they must take certain precautions to avoid lawsuits. In fact, "failure to warn" and "inadequate warning" cases have been on the rise. The more you can do to protect your employees and customers, the more you'll protect your bottom line.
U.S. Nameplate Co. has been manufacturing labels since 1946. We work with a wide variety of original equipment manufacturers (OEM's) and we know the importance of long-lasting and durable industrial safety labels.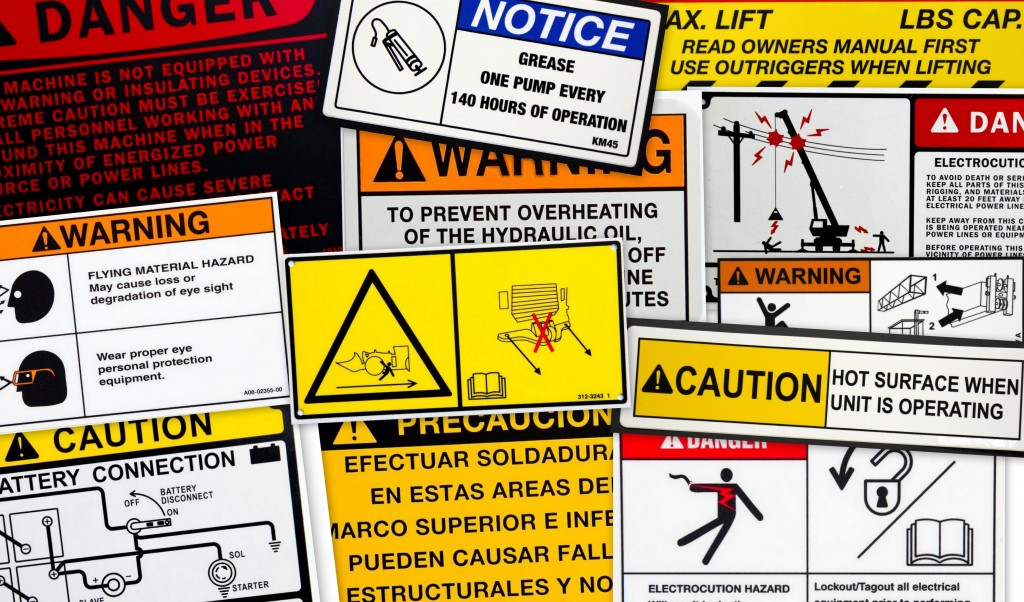 Safety labels should be the most visible part of any piece of machinery. If the label is not legible or becomes worn over time, your company runs the risk of accidents and lawsuits. The clearer your safety label, the lower the chances for product liability litigation.
At U.S. Nameplate Co., we listen to your needs. In order to provide the best design, we must learn more about your industry and understand how our products will be used. Will our labels be subjected to harsh weather conditions? Do they need to be visible from long distances? Will they be affixed to moveable parts? Do you need text only (i.e. safety instructions or hazard alerts) or text and symbols? Who is your intended audience?
The more details we have, the more customization we can provide. We'll also talk with you about materials, designs, and finishes. U.S. Nameplate is proud to offer many design options for your safety labels: screen or digital printing, laminating, embossing, thermal transfers, and die or diagonal cuts.
We design and manufacture safety labels for many different industries, including construction, mining, medical, original equipment manufacturers and the military. Each type of industry has unique standards and requirements, which may include ANSI, CE marking, UL-compliance, WEEE/RoHS, or ISO.
All industries have one thing in common, however. They need easy-to-read, easy-to-understand, and long-lasting safety labels. Sometimes text alone is not enough, especially when it comes to different languages. Sometimes labels require special colors, formatting, and custom symbols.
At U.S. Nameplate Co., we've been supplying labels to businesses across the world for nearly 70 years. We're experienced professionals and will help you every step of the way.
Safety labels are critical in today's business world. They protect everyone: your workers, your clients, and your company. Put safety first. Call or contact U.S. Nameplate Co. today to see how we can help with your next project.