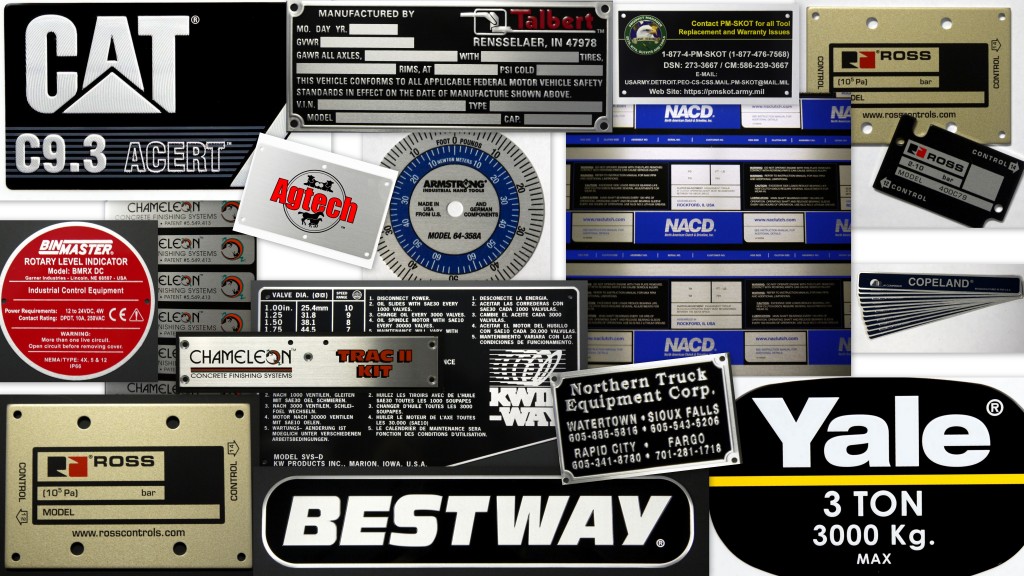 Size does matter.
When jobs and businesses and even lives depend on precision, rely on U.S. Nameplate. Our custom metal nameplates and safety labels are used in a wide variety of industries, including construction, medicine, electronics, the military, and mining.
Our nameplates are designed to contain crucial and easy-to-read information for your industry. They're formed and sized to adhere perfectly to your equipment. Our durable, high-quality, and custom nameplates provide instructions, offer warnings, and include critical information.
From start to finish, in all we do, U.S. Nameplate provides in-house design, manufacturing, and service. For 70 years, we have been the supplier of choice to more than 3,000 Original Equipment Manufacturers (OEM) throughout the world.
As we help you select the proper sizing factors for your custom nameplate, we'll discuss the following six considerations:
Material
At U.S. Nameplate Company, we offer five different types of metals: aluminum, anodized aluminum, Metalphoto®, stainless steel, and brass. Depending on your working conditions—whether your plate will be exposed to extreme weather fluctuations, chemicals, humidity, direct sunlight, and/or the interior of a mine shaft, for example—we'll make sure your metal nameplate is the ideal fit. Our rugged metal nameplates are designed to last up to 25 years in all weather conditions. Click here to learn about the unique properties of each type of metal.
Thickness
We know you have specific requirements for your metal nameplates. We also know the proper size makes all the difference for your projects. Your plates must adhere to many different surfaces. That's why we're happy to offer a wide variety of thicknesses for your final product. Once you select your preferred metal, you'll appreciate that you can choose from thicknesses ranging between .005" – .125."
Finishes
You can further customize your nameplate by adding beautiful and durable finishes, including satin, clear, red, matte, foil, brushed finishes, and gold. Whether these colors represent your business or brand or they simply help your nameplate and label stand out, you're spoiled for choice at U.S. Nameplate.
Manufacturing Runs
No job is too small or too large for U.S. Nameplate. From quick orders to enormous runs, we will custom design and produce a rating plate tailored to your project and your industry. And because everything we do is completed under one roof, our friendly staff can immediately respond to all your needs.
Data Rating
Many industries require specific safety information including limitations for weight, temperature, lifting, or electrical hookups. We can design your data rating based on your specifications or can leave your plate empty for later written instructions. We're proud to be an ISO certified facility and UL-approved label supplier.
Product Variety
As an OEM, your job is to provide critical information. If you have a need, we can fulfill it. Our designers will work with you every step of the way. In addition to metal nameplates, we also offer decals, safety labels, signs, control panels, serial plates, and much more.
Count on the professionals at U.S. Nameplate for all your identification products. Contact us today for a quote. We look forward to designing solutions for your needs.