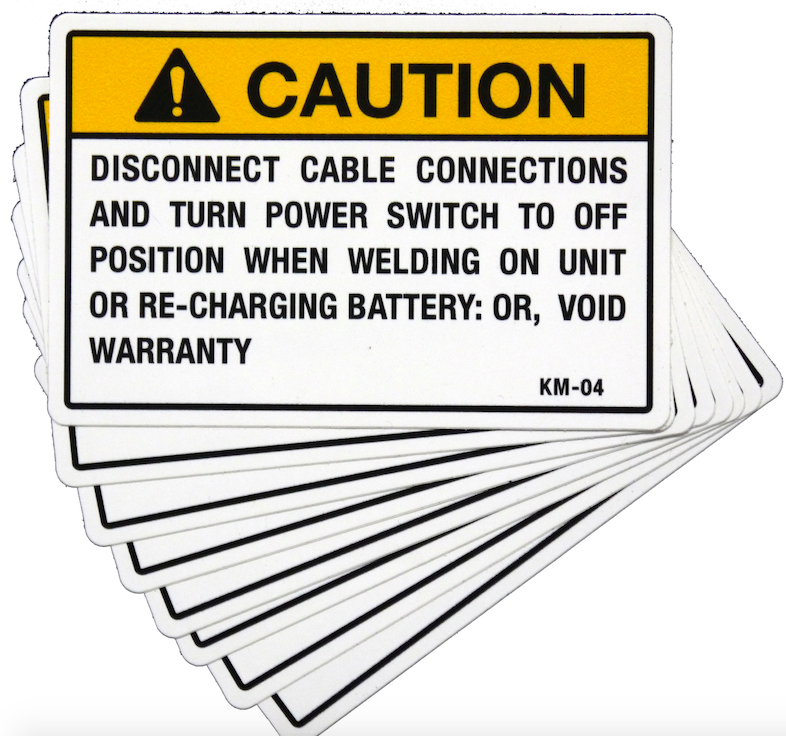 When you choose the brand name for your business, the hope is to make it stick in your consumer's minds. The same is true for labeling your equipment and products with your brand logo, specifications or tracking information. You need something that sticks, literally. When it comes to choosing the right adhesives for industrial labels or nameplates, there are a variety of things to consider to be sure you'll have a lasting hold. On what surface will the nameplate be attached to? Will it be used indoors or outdoors? Will it be exposed to chemicals or extreme temperature ranges? In the following guide, we'll walk through the different factors that affect adhesion and discuss solutions for each.
Surface Condition
First, the surface of both your nameplate and the surface it will adhere to are two of the most important determinants. This can include the materials used, their texture, size, flexibility, surface energy, and any treatment that's been applied to either surface.
Materials
Generally, adhesives are known for easily attaching to metals. And U.S. Nameplate offers the industry's top choice in foam adhesive for metal nameplates. Some plastic materials like polyester, polycarbonate and vinyl, require a plasticizer-resistant adhesive to prevent softening or loosening of the bond. The flexible material options at U.S. Nameplate Co., however, accept a variety of adhesives including tapes and instant solutions.
Texture
Texture also plays a role in determining the type of adhesive you'll need. If you are attaching to a rough or irregular surface, a foam adhesive can fill the gaps between the two surfaces. Smooth surfaces, on the other hand, have a much wider variety of adhesive options depending on the other factors discussed in this blog.
Treatment
We mentioned earlier that metals are often easy to adhere to, however, there is an exception when the metal has been powder coat painted. In this case, the coating becomes the bonding surface and requires an adhesive made specifically for that. U.S. Nameplate Co. offers a foam adhesive for just this situation with the 3M 300LSE Series.
Size
Size is another important factor. As a general rule, the larger the size, the greater the strength of adhesion you'll need to form a durable bond. For instance, hanging a large metal sign will require a much stronger adhesive than a small plastic tag.
Cleanliness
Regardless of the material, texture or other attributes, it is essential that the surface you're adhering your nameplate to is dry and clean to maximize the strength of the bond. This means removing any dirt, grease or other residues that may prevent adhesion. For most surfaces, a 50-50 mixture of water and isopropyl alcohol will suffice, however, certain materials or impurities may require additional preparation. Make sure to follow the application guidelines provided with your adhesive backed nameplates for optimal durability.
Surface Energy
The last component of the surface to consider is the surface energy. Surface energy determines the strength of attraction between two materials. The higher the surface energy, the greater the bond. Metals and plastics like acrylic, polyester and polycarbonate all have high surface energies and are easier to adhere to. Low surface energy plastics include polyvinyl, polystyrene, polyethylene. There are, however, many adhesive solutions made specifically for low surface energy materials like the 3M LSE Series.
Application Orientation
Just as a surface's attributes affect its adhesive bond capability, the orientation of an application also plays a role. If you are placing your adhesive nameplate on a stationary horizontal plane like the top of an electrical box, the weight of the nameplate really isn't a factor. If you are hanging a nameplate on a wall or any other vertical plane, however, you have gravity working against you. This means you'll need to consider the weight of the nameplate and choose a stronger adhesive to hold the product in place.
Environment & Use
Orientation isn't the only component of an adhesive nameplate's application that you need to consider. The type of product the nameplate is being applied to (mobile or stationary) and where it will be located (indoor or outdoor) will also affect the adhesive. For example, machinery that is constantly moving will need a stronger adhesive than a stationary application. And if that machinery is often used outdoors like construction or farm equipment, you'll need an adhesive that is resistant to harsh outdoor environments. Some indoor environments can be just as demanding, such as in the medical or food service industries. Indoor applications in these environments may also require stronger adhesives.
Exposure to the Elements
Along with its environment, an application's potential exposure to elements like extreme temperatures, harsh chemicals, UV light and humidity will also require specific adhesive solutions. U.S. Nameplate Co. offers a variety of 3M adhesives made specifically for these situations, including the following:
High heat: 3M 200MP Series has excellent high temperature performance
Extreme cold: 3M 300LSO Series has excellent high and low temperature performance
Chemicals: 3M Series are resistant to occasional contact with chemicals
UV Light: 3M 200MP Series & 300LSE Series are UV resistant
Humidity: 3M 200MP Series & 3M 300LSE Series are waterproof
At U.S. Nameplate Co., we strive to offer custom and innovative solutions to fit your business or industrial needs. We work closely with adhesive manufacturers to provide you the best solution, even if we don't currently have it in stock.
For more information about the specific materials or adhesives that are best for your project, give us a call or send us a message and one of our highly skilled team members will help create a custom solution for you.