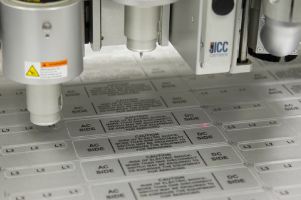 Rugged. Robust. Resilient. For more than 70 years, U.S. Nameplate Co. has made products that last. We know that the industries we serve — including mining, military, and construction — need nameplates that will withstand harsh conditions.
U.S. Nameplate Co. built our reputation by manufacturing high quality metal nameplates. Since then, we've grown our business to suit the needs of our customers. We offer etching, stamping, and embossing on our nameplates and will work with you to custom design the perfect product.
Our aluminum etching process creates plates that can last up to 25 years. These long-lasting products save you time and money. Specially designed to weather rough outdoor environments and extreme temperatures, etched nameplates are ideal for use in industrial, and transportation industries. Choose an etched metal nameplate for any task where you need easy-to-read signage or instructions.
At U.S. Nameplate Co., we use a chemical etching process that works especially well for data-rating plates, asset tags, serial plates, and vehicle identification number (VIN) tags. U.S. Nameplate Co. works with engineers, buyers, project managers, owners, and marketing professionals to ensure you get exactly what you need for your specific use.
Choose from a wide range of sizes in anodized aluminum for your etched metal nameplates. We like aluminum because it's a lightweight, economical, and strong material. Most widths can be sheared, machined, or hand tooled with ease.
Once we know your specifications, we use a powerful chemical to cut — or etch — your design into the metal surface. If you select a colored aluminum as your base, we can strip away the coloring as we manufacture the plate.
Contact U.S. Nameplate Co. today for your etched metal nameplate needs. You'll appreciate that we're a one-stop-shop. We handle every detail of your order — from customer service to design to manufacturing — inside our 55-thousand square foot facility. We're prompt, professional, and friendly. U.S. Nameplate looks forward to being your supplier of choice.