In our fast-paced, digital world, having accurate, easy-to-read information at our fingertips is crucial. Knowledge is power and speed is king.
Original equipment manufacturers (OEM"s) from all industries—including heavy equipment, appliances, and transportation—rely on the quality and integrity of control panel products they order from U.S. Nameplate Company.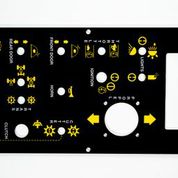 Properly and efficiently labeling your industrial control panels or overlays saves time and money in the long run. Control panels can be grouped into four types and U.S. Nameplate Company can meet your graphic needs for any or all of the following:
Physical Control Panel
Remote Control Panel
Control Panel Overlays
Membrane Switch Overlays
Whether your business equipment requires control panels, graphic overlays or deadfront graphics, the U.S. Nameplate Company can customize the look, feel, and function of your product.
U.S. Nameplate Company prides itself on its precision. As an experienced one-stop-shop, they perform every step of the manufacturing process under one roof. Their innovative capabilities meet the highest quality standards.
Depending on your specifications, a flexible graphic overlay may include control markings, dials, safety instructions or brandings using screen or digital prints. A deadfront graphic blends into the background and is visible only when backlit.
Choose from polycarbonate and polyester for your overlays and graphics. You can also select thicknesses ranging from 0.003"-0.125" and finished sizes up to 24" x 60."
Custom rigid control panels can be made from aluminum ranging from 0.032"-0.125" thick, with printed graphics and any size and shape of holes to accommodate the gauges, dials, knobs, and switches typical to controlling your equipment.
For the ultimate in durability and performance, graphic overlays with an optional glow-in-the-dark feature, can be laminated to your rigid aluminum control panels.
To further customize your look and fit your needs, you can select from a wide variety of finishes including clear gloss, suede, and brushed, among many others.
U.S. Nameplate is the "supplier of choice" to more than 3,000 OEM's. As they do for all their customers, they will go the extra mile for you. Call or email U.S. Nameplate Company for a free quote today.