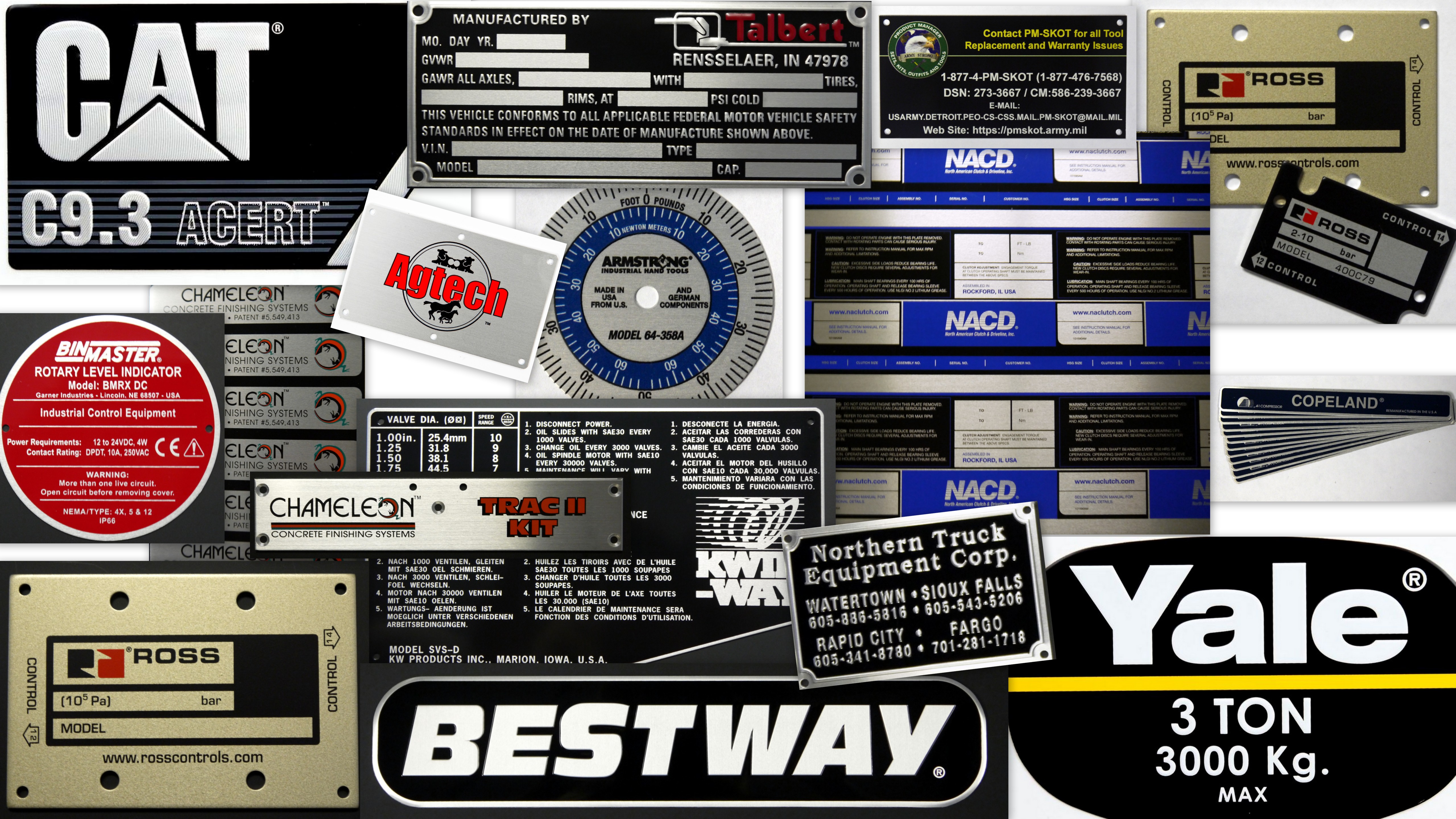 Businesses and individuals are often told to go make their mark in the world. At U.S. Nameplate, we make our mark with every custom design we create for our clients.
Since 1946, we have been the supplier of choice for metal nameplates to Original Equipment Manufacturers (OEM's) throughout the world. In fact, more than 3,000 OEM's trust us to design and deliver custom products—including decals, labels, tags, control panels, signs, and nameplates—for all their industry needs.
To help you make your mark, our experienced representatives will discuss the many options for your machinery and your products. When it comes to metal nameplates, you're spoiled for choice with our materials and marking processes.
We'll begin by determining the proper metal thickness for your application. Once you select your preferred metal, you can choose from thicknesses ranging between .005" – .125."
We work with a wide variety of industries—including aerospace, mining, and utilities—and we know each customer has unique specifications. The thickness of the metal depends on your use, how you will affix the nameplate, and what type of mark we can offer. We're exacting in all we do and proud to be an ISO certified facility and UL approved label supplier.
Following are brief descriptions of five of our marking methods:
Metalphoto®: Known as the most durable aluminum substrate on the market, Metalphoto is a photosensitive, anodized metal used in a wide range of industrial applications. Using your design requirements, we imprint the plate with your custom instructions. Next we embed the metal with graphics by embossing the surface with metallic silver particles. Finally, we seal the marks and cover them with a hard anodic layer. Available in thicknesses ranging from .003″ – .125," we offer matte, satin, and satin gold finishes.
Metal Etching: Using a chemical etching process, we create designs in aluminum and anodized aluminum which can be manufactured at any size, though most thicknesses vary from .005″ – .125." We can also etch the surface, then fill those spaces with screen printed inks. At U.S. Nameplate, we recommend the etching process for applications in harsh outdoor conditions, including the aircraft, automotive, and marine industries. We offer finishes in a variety of colors.
Screen Printing: You'll appreciate all the options when it comes to this process. Why? Screen printing is equally effective on metal or flexible materials like polyester or vinyl. We use a woven mesh with an ink-blocking stencil to create your custom design. In addition to flexible materials, we use a variety of metals and thicknesses to cut and machine your ideal printed project.
Digital printing: Like screen printing above, we can employ a wide variety of media and thicknesses. We apply a digital image directly atop your preferred material. It's a great choice for small production runs and on-demand printing. In addition to nameplates, digital printing is a great choice for for decals, safety labels, graphic overlays, and control panels.
Embossing: A centuries old process, metal embossing adds three dimensional printing—a raised, sunken, or relief design—to your chosen material. We can emboss on metal or flexible materials, like polycarbonate, up to .032" thick. Embossing creates a tactile and textured surface, useful for products like graphic overlays and buttons.
No matter what the metal, material, thickness, or product, you'll appreciate the durability of everything we produce at U.S. Nameplate. Our fabricated products last up to 25 years with outdoor and extreme exposures. Contact us today to see how we can help with your metal nameplates.