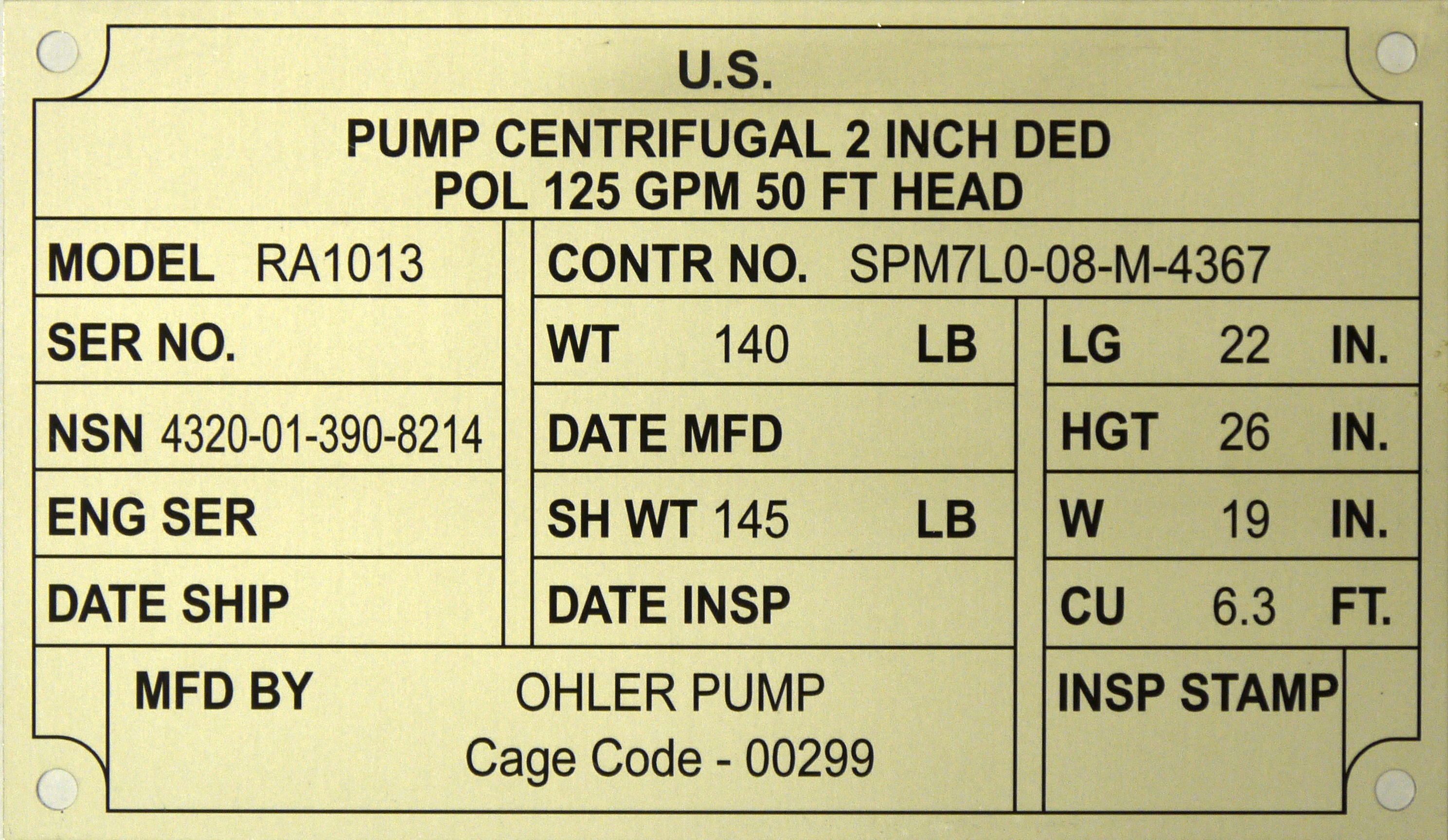 There's no denying how quickly some nameplates can deteriorate and lose readability depending on the environment they are in. There are many factors that lead to ineffective nameplates, but we've identified four main processes that are common across industries and damage nameplates the most. Knowing these types of damage, how to identify them, and how to avoid them (if possible), can help you determine which nameplate material is best for your application.
Abrasion
Abrasion is the process of scraping a surface that results in its deterioration or wearing away. The types of identification products that are commonly exposed to conditions associated with abrasion are nameplates, labels, graphic overlays, and products that are constantly touched, pushed and prodded.
These conditions are likely to cause buttons, icons, and instructions that were printed on the nameplate, graphic overlay, or membrane switch to become difficult to see, which can make an inherently dangerous environment even more so. When important nameplates aren't clearly readable to employees and visitors, serious damage and/or injury is likely to occur. It's important when deciding on and placing nameplates, to take into account the type of contact they're likely to encounter such as abrasion. Seeking specific abrasion resistant nameplates will help you avoid these unnecessarily dangerous situations.
Corrosion
Corrosion, a process most people are familiar with, is a gradual destruction of materials by chemical and/or electrochemical reaction with their environment. As it relates to nameplates, serial tags, data rating plates, control panels, and signs, the factor that will affect corrosion of these materials the most is the environment they are used in. Utilizing the properly designed or treated materials within a given environment is the most effective deterrent of corrosion.
If equipment is stored or operates in a hot, moist climate, corrosion will occur at a faster rate. Taking it a step further, if water comes into contact with a nameplate it may become damaged over time. The lower the pH (acidity) of the water that comes into contact with your nameplate, the quicker the rate of corrosion. Whether it's road salt or saltwater, salt accelerates the rate of metal rust and corrosion as well. Bacteria has a corrosive nature that is unknown to many people. When colonies of bacteria form on metal, they speed up the corrosion process and cause pitting on the metal surface. Once atmospheric oxidation begins, the materials disintegrate at the surface through a chemical reaction, removing important information and can affect attachment. Taking a proactive approach to avoid corrosion will allow you to save money and promote safety within the workplace.
Chemicals
Chemicals can be detrimental to the readability of warning and instructional plates, schematics, model and serial plates, barcode plates, and asset tags. Because various chemicals are so prevalent across many industries, it is likely each business should consider a nameplate that is resistant to such damage. The most common types of chemicals within a business that cause damage are alcohol, gas, and acetone, which can destroy printed labels, remove ink, cause adhesion problems and related safety issues.
Temperature
Extreme heat from friction, welding, stovetops, engines, prolonged sunlight, etc., and cold temps found in freezers, extreme winter weather conditions, and refrigeration equipment can create issues for nameplates used in a facility. Extreme high temperatures can distort images and wording which can completely change the meaning of a label or nameplate. High temps are also associated with catastrophic failure in nameplate adhesion and can cause them to fall off the surface their affixed to. They can also be faded beyond recognition if left in direct sunlight for an extended period of time. High temperature nameplates and high temperature labels may be the only solution to a need for nameplate durability.
Nameplates, labels, data rating plates, serial tags, and signs that are held on a surface through adhesion may also be affected by extreme cold. Adhesive materials may shrink, become brittle, and lose properties that make them 'sticky' to begin with. Nameplates that become distorted or fall off a surface create the opportunity for accidents, which can cost a business greatly. Avoiding such conditions will help in prolonging the life of nameplates, but if avoidance isn't possible businesses need to invest in nameplates that can stand up to these conditions.
Durable Options from U.S. Nameplate Co.
At U.S. Nameplate Co., we build our products to withstand harsh environments. In fact, some of our nameplates are built to last up to 25 years. No matter what the conditions or job-sweltering heat, freezing cold, underground work, and continual outdoor exposure-our metal nameplates really take a beating. We offer custom work using aluminum, stainless steel and brass metal plates. For outdoor use, U.S. Nameplate Company uses a special metal etching process that actually becomes part of the metal. While these materials and processes are durable and tough, there are tried and true methods to ensure they last even longer. The more effectively you can protect and preserve your metal nameplate, the more time and money you'll save.
The following list provides an overview for the durable nameplate and label materials we offer. Depending on the application of the nameplate there may be multiple options available for your durability needs. If your business is experiencing nameplate damage similar to the types listed above, we have a practical and affordable solution for you.
Polyester
Polyester has high tensile strength and is resistant to chemicals, abrasion and tears. This material is frequently used for panel overlays, labels and nameplates.
Brass
Brass is resistant to saltwater, corrosion and chemicals and Is generally a durable choice for nameplates and signs.
Stainless Steel
Stainless steel has exceptional resistance to chemicals and corrosion. It is the preferred choice for caustic and acidic environments and is commonly used for nameplates, panels and signs.
Aluminum
Aluminum is lightweight and provides good corrosion resistance. This is another popular choice for nameplates, panels and signs.
Anodized Aluminum
Anodized aluminum has exceptional abrasion resistance and durability against corrosion, extreme temperatures, chemicals and solvents. Anodized aluminum is frequently used for nameplates, panels, overlays and labels.
Metalphoto
Metalphoto is the most durable and widely used material for nameplates, panels, overlays, signs and labels. It has superior resistance to abrasion, cleaning solvents, most chemicals, UV and extreme temperatures with ability to withstand outdoor exposure for 20 years or more.
Optional Finishes to Increase Durability
Screen Printing
Screen printing is a finish option that helps increase resistance to abrasion, chemicals and solvents.
Aluminum Etching
Aluminum etching increases resistance to chemicals and harsh, outdoor environments.
Contact us today for more information about our durable identification products or to get a quote.