Case Studies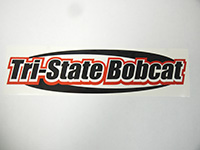 Name of Company: Tri-State Bobcat Inc.
Type of products you ordered: Company Stickers, Brand Logo's
Problem/s faced that drove them to our products:
At our business, we were looking for a company that was easy to work with, met deadlines, and cooperate with us as we created new branding for our company. U.S. Nameplate not only did those thing's for us, but even more. Quick responses, quick shipping, and bulk product. That's why we chose U.S. Nameplate for our decal needs.
Results obtained by using our products:
Nothing says more about a company than how it is displayed to the public. Eye grabbing fonts, Catchy colors, we wanted our logo's to "pop". Our company logos are branded on a variety of highway work equipment. Before it was hard to read, now it is easy to spot. That's what we were looking for. Not only that, the material they suggested stands up to rough Minnesota winters.
Specs of the Products they ordered (size, color, finish, material):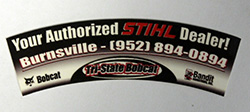 We have ordered a variety of products from U.S. Nameplate. From company logo's, to rental decals. Sizes range from the size of a business card to 6x12. The material I believe is a scotch brand. Whatever it is, it's working great.
Overall Satisfaction:
Price, Customer Service, Delivery. U.S. Nameplate has done it all for us. They don't make me wait on an automated call line, I can easily email & work with their staff. We will use them today, we will use them tomorrow, we will use them until stickers are out of style.