Case Studies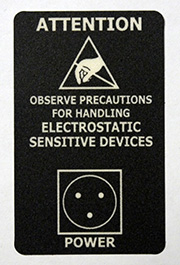 Name of Company: Crystal Group
Type of products you ordered: We order custom decals per a Crystal Group print.
Problem/s faced that drove them to our products:
Before using U.S. Nameplate, our supplier of decals was very inflexible and quality was not consistent.
Results obtained by using our products:

U.S. Nameplate is very responsive to our demanding needs. We have had very few quality issues. They are a great partner to Crystal Group.
Specs of the Products they ordered (size, color, finish, material):
The majority of the decals we buy have black background color with white lettering made from the 5 mill clear polycarbonate with the 3M467 back adhesive. The decals have a wide range of sizes.
Overall Satisfaction:
Our overall satisfaction with U.S. Nameplate is very high. They are very cost competitive and respond very quickly to our demanding needs when required.