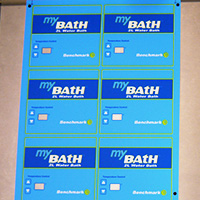 Graphic Overlays and Dead Front Panels
Graphic overlays and dead front panels are available in polycarbonate and polyester materials and can be digitally cut and punched to custom specifications. Precise control markings, dials, safety instructions and brandings are screen or digitally printed onto the overlay. Dead front graphics can be applied and will only appear when back-lit. Overlays and panels can be processed up to 24" x 36" in size.
Contact U.S. Nameplate Co. today to see what we can do for you.