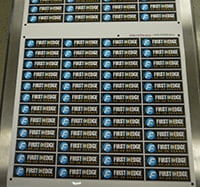 Industrial Equipment Labels
Labels can be custom-made from polycarbonate, polyester and vinyl materials of any size. Choose from a variety of finishes, colors and adhesives. Our custom equipment and product labels can be digitally cut to your shape specifications and can be shipped in rolls, strips or individual pieces.
Contact U.S. Nameplate Co. today to see what we can do for you.