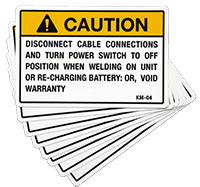 Custom Safety Labels
Safety labels can be produced at most any size and can be digitally cut to custom shapes. Choose from a variety of materials, finishes, colors, and adhesives. Finished labels can be shipped in rolls, strips, or individual pieces.
Contact U.S. Nameplate Co. today to see what we can do for you.